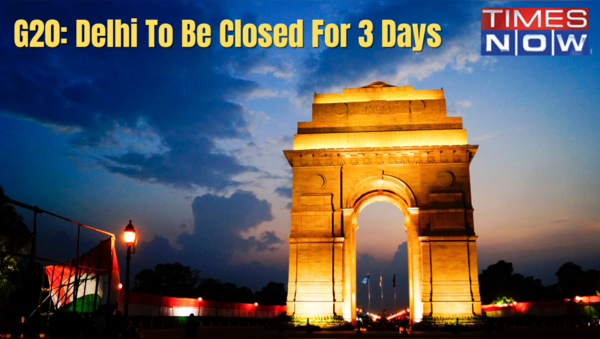 New Delhi's Markets, Malls, Schools and Offices may remain shut during G20 summit in September
Photo : Times Now
New Delhi: The New Delhi and NDMC areas will be out of bounds for the general public during the upcoming G-20 Leaders Summit and September 8, 9, 10 will be declared public holidays. The international summit can also affect the operation malls and markets along with schools, colleges and government and private offices in the New Delhi area for three days. As per reports, some schools and colleges may be advised to switch to online mode or remain shut due to the summit.
Traffic restrictions and diversion for the summit will kick in from September 7 midnight
Traffic restrictions in wake of G20 summit in Delhi
During the G-20 summit,
Entry of heavy vehicles, except those carrying essential goods, will be restricted.
The main routes that would be taken by the dignitaries will be from the airport to 18 hotels (16 in Delhi and two in Gurgaon) and the hotels to the main venue (Pragati Maidan) and to Rajghat.
Traffic movement around Delhi airport will be of prime importance and apart from restrictions, vehicular movement here will also be regulated at times.
DTC buses will also be diverted.
The Delhi Traffic Police have assured that there will be no major inconvenience to citizens, specially due to closure of schools, colleges and other institutions, and the traffic movement in areas outside New Delhi are also not likely to be impacted much except for diversions during VIP movement.
The traffic police on Monday carried out a carcade rehearsal from various hotels to Pragati Maidan and other places. Officials said Monday morning's rehearsal was carried out from the airport to the hotels as well as the hotels to the summit venue and other places that would be visited by the dignitaries. The aim of the rehearsal was to check the time taken on the routes and traffic movement as well as to observe how commuters respond to restrictions, they added.
Left hand-Driven Cars Rented by Central Govt
During the summit, each carcade will include 10-15 cars carrying heads of states as well as leaders of several international organizations. Centre has rented 28 left hand-driven cars dedicated for this purpose. Senior officials said the cars will be driven by trained paramilitary officials.
"There will be no hassle with the left hand-driven vehicles since they will be moving in a carcade and will simply follow the rules and the cars ahead of them," said a Delhi police official.
Virtual help desk to be set up by traffic police
A virtual helpdesk for the guests as well as the public which can be operated in any language will also be set up. The details of nearest hospitals, marketplaces, sightseeing locations, latest updates from the traffic police and vehicular movement at various places will be available on the helpdesk.
Additionally, arrangements have been made for the spouses of the heads of states who are scheduled to travel to Pusa Institute and National Gallery of Modern Art.
Summary:
★Markets, malls, schools, and offices in New Delhi may remain shut during the G20 summit in September.
★Traffic restrictions and diversions will be implemented from September 7 midnight.
★Entry of heavy vehicles will be restricted, and certain routes will be reserved for dignitaries.
★Delhi Traffic Police assures minimal inconvenience to citizens.
★Carcade rehearsals have been conducted to check traffic movement and response to restrictions.
★Left-hand driven cars rented by the central government will be used for the summit.
★A virtual helpdesk will be set up by the traffic police to provide information and assistance.
★Arrangements have been made for the spouses of heads of states traveling to specific locations.
Follow DelhiBreakings on Google News
Superfast News Coverage by DelhiBreakings.com team.
For Superfast national news and Delhi Breaking Stories visit us daily at https://delhibreakings.com